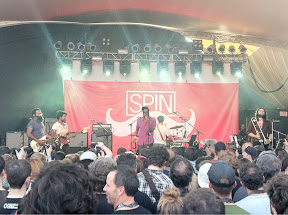 TV On the Radio live at Stubb's.
It's a sunny, bright day in Austin, pretty much perfect weather for strolling the streets and taking in good tunes while you soak up the sun.
I started the day at Waterloo Records, a pretty sweet store that Homer's main man Mike Fratt actually recommended I check out when I talked to him a couple weeks ago.
The large record store had a big, solar-powered outdoor stage where band's were playing short, 25-minute sets.
The first group was Joy Formidable. Again, they're a band I've never really heard much about, but they were a blast.
Only a three piece, the group had that fuzzed-out rock sound that really reminded me of Silversun Pickups. Except British. And with a really cute blonde frontwoman.
I'm looking forward to grabbing their debut record and maybe catching them again. They rocked.
After that was a set from Vivian Girls bassist Katy Goodman's new project, La Sera. It's really sunny California surf pop, probably indicative of Goodman's recent move to the West coast.
Inside the store right after that was the Pains of Being Pure at Heart. The stage was in an odd spot in the store with a wall right in front of the stage dividing the store (and the crowd) in half.
Still, it was really cool to see the band again this weekend, especially because they did a bunch of new stuff. The new material is in the same vein as it's debut album and the EP that followed, but included a lot more melody. A welcome addition, in my opinion.
I then hoofed it across downtown to Stubb's to catch TV on the Radio at Spin's day party. I arrived just in time to see the band take the stage.
I'd never seen them before. It was loud and jammy, but sorta dancey. And sweet to see a non-ska band with a full-time trombone player.
My favorites were the last couple songs: new track "Repetition" and old track "Wolf Like Me." Definitely need to pick up that new album now (and some of the old ones, too).