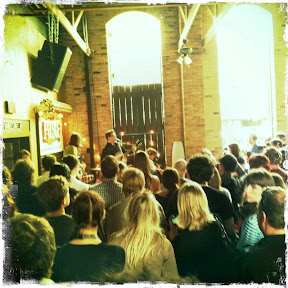 Jeremy Messersmith at The Stage on Sixth.
It's only been a few hours, but I've already seen some great stuff.
After The Civil Wars, I listened to Keegan DeWitt for awhile. He was OK and mostly served as background noise while I tried to fix my iPhone, which had suddenly stopped working.
Anyway, Trampled By Turtles were next. Someone labeled them "progressive bluegrass," and by my estimation, they are a really skilled bluegrass group that has some jam band tendencies.
Next up was Jeremy Messersmith, another favorite discovery of the day.
Messersmith looks like a blond Buddy Holly. Sounds like him, too, but more like if Buddy had listened to a lot of The Beatles (instead of the other way around). He has a very solid '60s pop-rock sound, solidified by Messersmith often playing bass as the lead, not just as part of the rhythm section.
He did change it up a bit a few times, including a couple songs with a four-person string section.
My favorite song was the one Messersmith called "my most famous" and the one that turned me onto him in the first place. "Tattooine" is a song about love under two suns and is a blatant reference to "Star Wars." Personally, I love it when nerdery and music collide and this was a fine example.
Pains of Being Pure at Heart (with video!) on it's way...